Hello, Kiki Art Fans! Creating altered art doesn't have to be time consuming, expensive, or intimidating. You don't need a fancy canvas, lots of paints, or tons of tools. You can create a fabulous altered art piece with the supplies you already own. I've mentioned before that I love to collect cardboard. Yes, I know, I probably needs some sort of a 12-step program, but cardboard makes me happy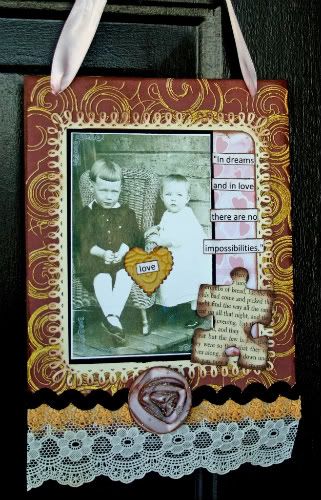 1. For this Valentine's Altered Art, I cut a piece of cardboard 7″ x 9″ from a cereal box. You can cover the back with solid cardstock, if you like.
2. I then covered the front with a piece of patterned paper (Antologia China collection) and inked around the edges.
3. Next, use a pen to mark the position for the ribbon hanger. From the top corners, I measure in 1″ and down 1/2″. I use my Crop-a-dile punch the holes. You will place the ribbon later.
4. I enlarged one of my vintage photographs to 5″ x 7″. You can use any photo or clipart you like. Mat with black cardstock.
5. Cut a piece of cardstock to measure 6″ x 7″. I used a corner/border punch to add a decorative edge to my cream cardstock frame. You can just round the corners of your cardstock, if you like, for a constrast to the sharp edges of the cardboard. Adhere to cardboard base.
6. Measure patterned paper to layer inside of cream cardstock frame. I used this beautiful heart patterned paper (Antologia Amor collection) cut to 1 1/4″ x 5 3/4″. Ink edges and adhere on cream cardstock frame, next to matted photo.
7. Cover chipboard puzzle piece (Antologia Familia collection) with book/newsprint paper. Ink edges and adhere to bottom right corner of cream frame.
8. Punch heart from patterned paper (Antologia China collection). Ink edges and adhere to photo.
9. Use Fun Tape on corners of photo for decorative/vintage look.
10. Cut lace/rick-rac to 7″ and adhere to bottom of cardboard. I chose 3 different colors and patterns to add interest.
11. Create your own flower or adhere pre-made flower to center of lace. I simply inked and layered 3 different sized circles of patterned paper (Antologia Amor collection) and attached a brad through the center. Separate and bend each circle with your fingers to enhance layers. Paint glue on tops of layers and sprinkle with fine glitter.
12. Print poem and "love" for photo heart. Cut into strips, ink edges, and adhere.
13. Cut ribbon for hanger to 14″, put through holes, and tie in knots on back.
And, there you have it…Your own Valentine's Altered Art! Have a wonderful Valentine's Day."