Hey Everyone!  This is Katrina and I have a special treat for you.  I am filling in for Sarah, since she is getting the FUN job of going to CHA!  So she is busy gluing, cutting, and creating!  If you happen to go to CHA in Anaheim, make sure and stop by the Kiki Art booth!  Kiki, Sarah, and Nicole would be happy to meet you and show you how great Kiki Art is to create with.
The treat is that this is a two for one post.  I have Sarah's layout that she created and then I created a little something also.  So first, let's get to the good stuff with Sarah's layout.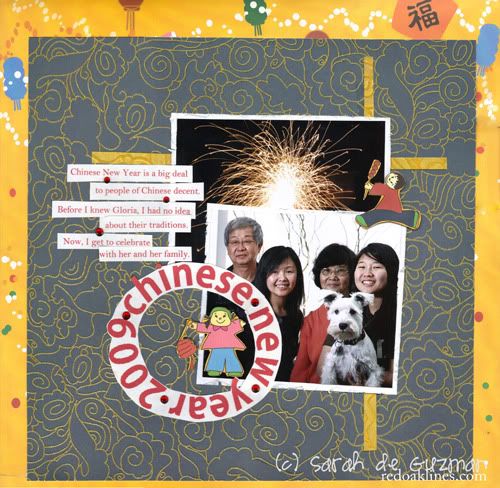 What a great layout about diversity in friendships and what you can learn from them!  I love how she cut the little people out and used them as embellishments!  Don't forget hand cutting your embellishments out of your pattern paper can be fun and a quick way to coordinate your layout.  And that fireworks picture is amazing; I need to try to take some of those.   Don't forget to document all holidays, little or big, which is something I never thought of until I started scrapbooking.
You need to check out Sarah's blog too!  The link will be at the bottom of the page!  She has some really cute dogs and you know I am a dog lover.
On the blog, we are exploring CHINA!!!  So Sarah's layout talked about celebrating Chinese New Year and how she has learned from her friend about the holiday.  I was a little stumped as to what to come up with.  I happened to be surfing the web and thought of Chinese proverbs, so I did a search.  I had no idea that some of the sayings that I grew up with or hear quite a bit are actually a Chinese proverb!  So, I decided to do a layout about them.  And I thought it would be neat to do a mini layout to complement Sarah's full size layout!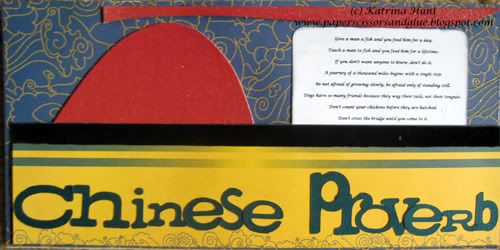 Here are a couple of my favorites that are on my mini:
Dogs have so many friends because they wag their tails, not their tounges.
If you don't want anyone to know, don't do it.
Look up Chinese proverbs and see what you find….I think you will be quite surprised and may even find some new ones!
Have a Scrappy Kind of Day~~Katrina
Paper, Scissors, and Glue—Katrina's blog
RedOak Lines—Sarah's blo
Supplies:  CHINA Collection from Kiki-Art