With this month being a Chinese New Year focus here on the Kiki Blog, we have a few different interpretations of these fun paper lanterns for you. This first one comes from Carol Stirrat:
Hello Kiki fans!! Carole here with my first post…
It's a new year and a new decade! Hopefully everyone has recovered from their celebrations and is settling nicely into 2010. In China, however, the New Year is one of their biggest celebrations which lasts for weeks… and it hasn't even started yet! They celebrate the New Year according to the Chinese calendar with tracking the first new moon of the year, which can be anytime between late January and early February. This year the Chinese New Year lands on February 14th, and for 2010, it will be the year of the Tiger.
I remember as a child we had a family tradition of going out to eat once or twice a month at our favorite Chinese restaurant called Dragon Gate. My sister and I would entertain ourselves reading the paper placemats we were given that explained the Chinese Zodiac. I happen to have been born in the Year of the Horse, 1978, and my sister was born in the Year of the Tiger in 1974. It was always fun to see if our personalities matched the zodiac descriptions. No matter how many times we read those placemats, it never got old. Throughout the numerous dinners at the Dragon Gate as a kid, I never bolstered the bravery to eat anything other than sweet and sour pork and fried rice. Getting our fortune cookies at the end was an added bonus that was equally fun!!
To celebrate the Chinese New Year in our house, I made a fun craft that you can also do with your kids. It's quick, easy, and only takes a few supplies. Gather your Kiki-Art paper from the "China" line and follow the directions for these easy to make paper lanterns that I found here.
Happy New Year!!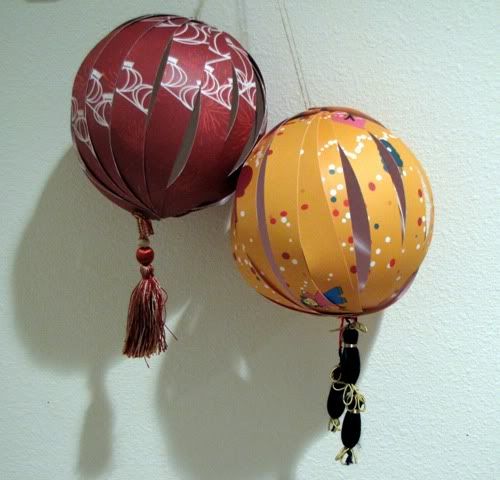 At the end of the month, we have Sophia showing us her interpretation of how to make Chinese Lanterns and we can't wait to see yours!